More Than 777 Years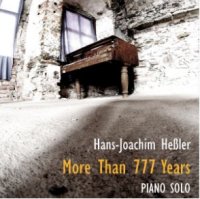 Hans-Joachim Heßler:
More Than 777 Years



A stroll through
the history of music




"Hans-Joachim Heßler arouses
archaic allegros on his keys."
(WAZ)

"Anyone looking for a connection
to the history of music and religion in Hessler's new recording will find it. [...] Piano music to be enjoyed."
(Dresdner Universitätsjournal)

"The listener has manifold chances to gain a new understanding of music. It has also become clear here that the act of overcoming borders doesn't need to result in a sound muss."
(Neue Westfälische).

"Hans-Joachim Hesslers piano solo taught listeners
how intensely music can be experienced in a physical way. During the solo the pianist seemed to completely become one with his instrument."
(Ruhr-Nachrichten)

"Hans-Joachim Heßler captivated
[his audience] with an energetic presentation and theatrical drama."
(Westfälisches Volksblatt)

"The extraordinary artist presented a
highly exciting musical evening
and fully convinced the audience."
(Westfälischer Anzeiger)

"...[various] influences can be found in a unique, very personal and intensely felt fusion[...],
transcending space and time with the capacity of musical integration."
(Jazzpodium)

"There is no blurring, no flattering, no courting the audience. Rather, this directness conveys a deep seriousness of the musical matter, as if the man at the piano simply wanted to tell us something true."
(Dr. Barbara Dobretsberger, lecturer in musicology at the University Mozarteum Salzburg).
SOUND SAMPLES
Sample 1
: Danse de la Renaissance (Beginning)
Sample 2
: Balet Bartok (End)
Sample 3
: Improvisation sur une sonate de Domenico Scarlatti (excerpt)
Sample 4
: Danse turque (End)
NonEM-Records AAM9416